'Wet' Underfloor Heating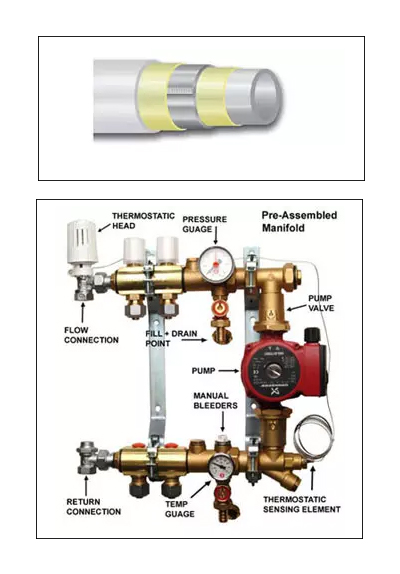 Plumbed into your central heating system
Wet underfloor heating systems comprise of a multi-layered plastic pipe normally 16mm diameter which are laid in continuous loops to and from the manifold in the floor with no joints. The manifold comprises of a temperature controller, circulating pump and actuators for closing off zones as they reach temperature set by room thermostats. The manifold needs to be located above floor level in an accessible location. (WUFH) works by the manifold receiving heated water via a boiler, heat pump etc. The pump on the manifold then, in turn, circulates the heated water, which is blended to the correct temperature by blending valve on the manifold, round the pipe loops in the floor which in turn transfers the heat to floor construction and floor covering and heats up the room.
The water temperature required to heat (WUFH) is normally about 45-50 degrees. In highly insulated new build properties this could be reduced to 25 degrees depending on floor coverings. (WUFH) is more energy efficient to run compared to conventional radiators which require 70-80 degrees. (WUFH) systems will also utilise the full potential of a condensing boiler as they condense better with return temperatures below 57 degrees or less. (WUFH) is also the perfect heat source choice when coupled with heat pumps which generally generate flow temperatures of 55 degrees.
(WUFH) is most suitable for new build projects, due to being able to incorporate the installation within the building process and the high insulation properties of new build projects. Renovation projects will require a lot more preparation works. Due to installation floor depths of 125-150mm insulation and screed installation. It is very unlikely that a (WUFH) could be laid on top of an existing floor unless it was already insulated underneath, in which case floor depths can be considerably reduced and installation costs due to not having to dig up existing floors.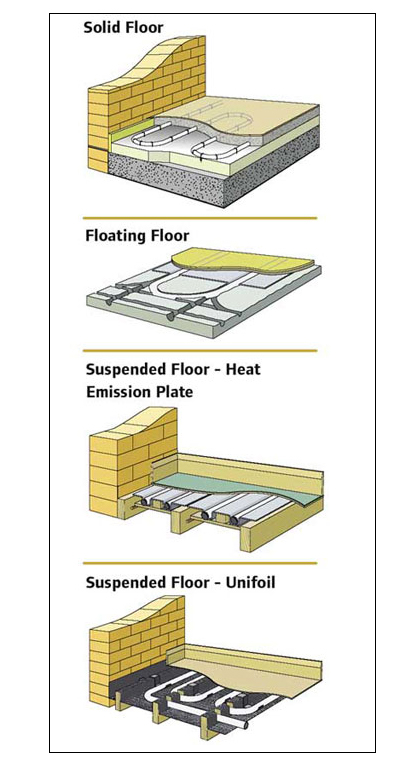 Floor Construction
There are many different floor construction applications to suit all projects and floor types. The different floor constructions are as follows.
Solid Floor
Floating Floor
Suspended floor – Heat Emission Plate
Suspended Floor – Unifoil
Floor Finishes
Stone and Ceramic floor tiles
Natural or reconstituted stone, marble flooring, slate, terrazzo and ceramic tile are excellent conductors of heat, especially when laid on screed floors, as screed and tiles have similar conductivities. Tile floors inherently are very cold to walk on, so underfloor heating (UFH) is well partnered with tiled floors, to create a welcoming sensation of a heated floor under foot.
Due largely to its thermal resistance and higher output compared to other flooring materials, tiled floors are a must in highly glazed areas for example conservatories. Tiled floors have a typical resistance of 0.020 kW/m2 which gives about 141 watts per square metre.
Timber floors
Natural timbers, laminate, engineering board and sheet materials are a popular floor finish.
Timber is a natural product and in its raw state will have a high moisture content, if this were laid onto (UFH) the timber would shrink when heated causing excessive gaps between planks as well as warping. To avoid these problems the timber product moisture content must be no greater than 10% with kiln dried timber being most widely used.
Engineering board, which have a solid wood veneer of around 4mm thick attached to a ply plank will offer the same look as a real wood floor but will have fewer problems with moisture and shrinkage due to the fact that the board is predominately made from ply which is a very robust man-made timber.
Laminate flooring is a laminate veneer attached to an MDF board. These will have no problems with (UFH) as all elements are man-made, But still check with the manufacturer to make sure.
Timber floors being a low conductor of heat due to its insulating properties have a typical resistance of 0.15 kW/m2 which gives about 79 watts per square metre.
Vinyl floors
In general vinyl floor finishes have a low thermal resistance of 0.075 kW/m2 which gives about 106 watts per square metre. Vinyl floor coverings are flexible by nature and therefore differential expansion will not cause a problem. How ever consideration must be given to the type of adhesive used as these could be subjected to temperatures in excess of 35 degrees.
Carpets
Care in the selection of carpets and there associated underlay must be taken to avoid excessive thermal resistance. Carpets are one of the most insulating floor coverings to choose from. The thermal resistance of carpet and underlay should not exceed 1.5 tog which would give 79 watts per square metre. Carpet is also flexible and therefore does not present any differential expansion problems. Also, if rugs are used to cover large areas of the other floor coverings then these too must not exceed 1.5 tog rating.
---
Controls
There are two main types of controls for under floor heating these are:Programmable room thermostats.
Which is a sensor that monitors room temperature. These are positioned in all zones to open and close (UFH) loops as rooms cool and warm up. They offer the end user control of different temperatures in different zones. They also have a programmer function which allows the user to vary zone temperatures through out the day to suit living patterns when house is occupied and not occupied. These controls also improve system efficiency by preventing excessive heating of property and responding to other heat sources such as solar gains or electrical equipment.
Weather compensation consists of a small sensor fitted on an external north facing wall. When the temperature changes outside the (UFH) responds and starts to increase or decrease the primary water temperature to the loops by a motorised blending valve on manifold to compensate. This pro-active mechanism means that people inside the building wont even notice that the temperature outside has changed. These constant small changes also mean that the (UFH) is able to operate at the minimum temperature required to keep the rooms warm. Weather compensation is the most efficient way of controlling underfloor heating and will offer significant efficiency savings by reducing the load required by the heat source like condensing boiler or heat pump.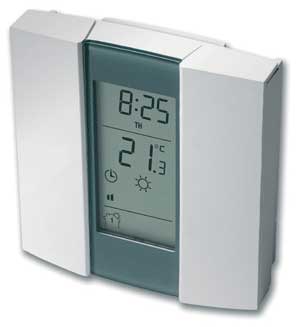 Electric Underfloor Heating
Electric underfloor heating consists of a self adhesive mesh with a heating cable pre attached. Supplied in a roll the mat is applied to the floor cutting the mesh at turning points and covering the whole floor area avoiding areas with permanent fitted furniture like kitchen units and toilets. Easier to install than (WUFH) systems which inevitably involve a large degree of disruption in the digging or lifting of existing floors, extension of heating system pipework etc. (EUFH) systems can be installed fairly easily and at a fraction of the cost compared to (WUFH) the only additional requirement is a source of mains electricity.
(EUFH) is extremely versatile especially if it is only for one area (zone) i.e. bathroom or conservatory. (EUFH) also requires less depth than (WUFH) and can be laid straight on top of existing floors with a little preparation work. This is advantageous in situations where head room is at a premium. (EUFH) will normally raise the floor by no more than one inch including floor covering.
The running cost of (EUFH) is about 30-40 % higher than (WUFH) and if your property already has a wet heating system it makes more sense if possible to use the heating system rather than having two energy sources to heat the building.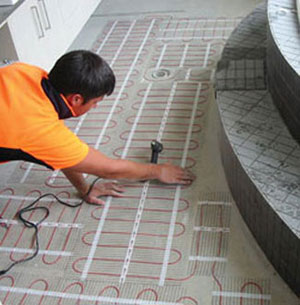 Contact Us
To get a FREE no-obligation quote, call Tel: 01202 386439 or Mobile: 07887 647921 now or complete our online enquiry form.