Heat Battery technology has been intelligently designed to provide a clean, efficient and cost-effective thermal energy storage solution that replaces the traditional hot water cylinder.
We install the tried and tested Sunamp range, their heat batteries are non-toxic, non-flammable and they have ensured that it is possible re-use or re-cycle every component at end-of-life
Working with everything from gas boilers to solar and heat pumps, Heat Batteries deliver cascades of hot water and highly responsive space heating with superb efficiency and proven savings on utility bills. This outstanding technology comes at an accessible price and offers limitless scalability.
Heat Batteries store more energy in less space and offer a flexible solution to upgrade your hot water and heating systems. Heat Batteries replace traditional cylinders, enhance your combi boiler, and integrate with any energy source, including renewables.
Heating your home and water
Heat Batteries are the most compact thermal storage technology available on the market today, saving space in your home and delivering hot water and highly responsive space heating, integrating perfectly with your preferred heating controls.
This environmentally friendly, safe and extremely efficient heat storage system is compact and can easily be installed in a location of your choice, or can replace your existing hot water tank.
Heat Batteries can substitute a standard hot water tank working with existing boilers or mains electricity and open up new opportunities to save energy and cost using a variety of renewable energy sources.
They are easy to fit, take less space than a traditional cylinder, are low maintenance and have a lifespan of over 40,000 cycles (the equivalent of over 40 years of average use).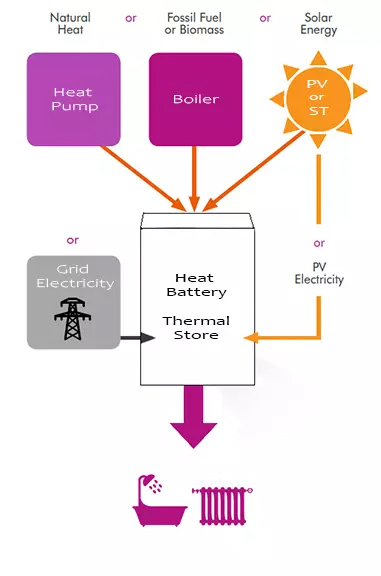 Heat Batteries have a Highly Efficient A+ Energy Rating.
Unlike Hot Water Cylinders or Buffer-Tanks for Heat Pumps, Heat Batteries have very little heat loss and are perfect for Economy 7, Heat Pumps and Solar installations. Heat Batteries are fitted with an electric element which requires a much smaller electricity supply when compared to electric showers and immersion heaters
Heat vs Electric Storage
Given that the majority of our home energy usage goes towards producing heat, Heat Batteries provide you with a more compact, more cost effective, low carbon solution to heating your home and hot water.
Heat Batteries can be charged using any energy source. You can off-set peak energy costs by charging your Heat Battery with cheaper off-peak electricity, or divert energy from your solar PV, heat pumps or other renewable sources. Once charged, the heat can be released instantly when needed, delivering hot water and space heating during peak times.
Hot Water and Heating on Demand
The Heat Battery doesn't just store energy, it delivers fast-flowing hot water on demand. Using a uniquely developed innovative material, the battery can store four times more energy than hot water tanks in a unit the size of a combi boiler. The battery heats water to a selectable temperature, between 35-55 degrees Celsius, and provides the equivalent of 90-138 litres of hot water; plenty to fill a bath or run several showers daily.
The SunampPV system is compatible with a combi boiler, and is fitted with smart technology to monitor your heating and hot water usage in real time on Apple or Android devices, so you are always in control.
Heat Batteries Work With Any Energy Source
Our Heat Batteries are designed to work with any energy source from renewables such as CHP, air or ground source heat pumps, solar PV (Photovoltaics) and wind turbines. They have the capacity to scale up to heat larger homes. They also work with solar thermal systems, biofuel pellet systems, or heat pumps running on an off-peak electricity tariff.
Renewable electricity systems are optimised by Heat Batteries, and able to divert any spare electricity to the Heat Battery. Here it is converted to heat, and stored until it is needed, rather than the electricity leaving the home and going to the Grid for a minimal return.
Before and After Installation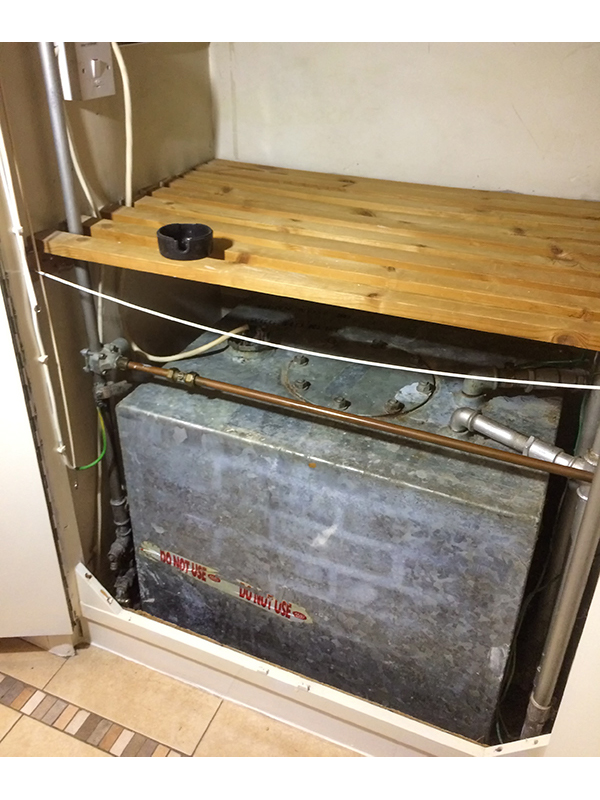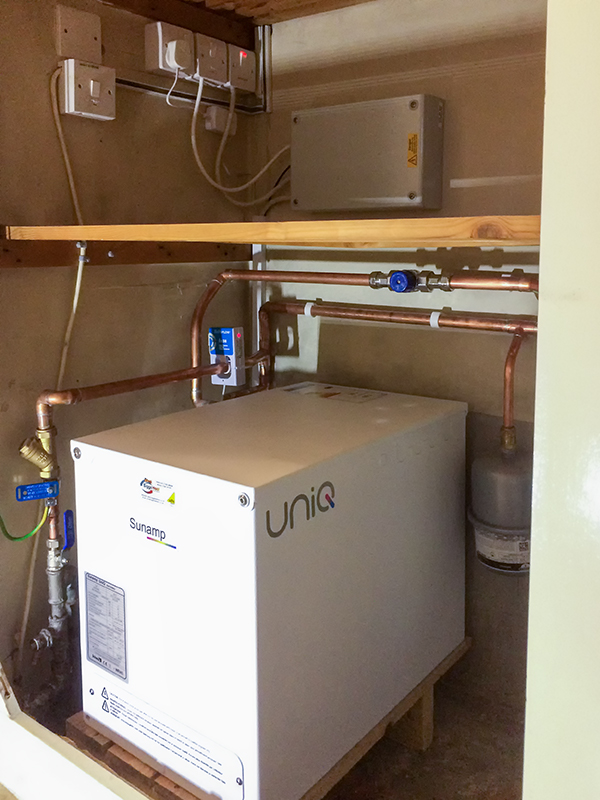 About Biggs Heat Technologies
Biggs Heat Technologies, established in 1998, is a local business based in Poole, that primarily serves the whole of the Dorset region, but also carries out works in surrounding counties.
Contact Us
To get a FREE no-obligation quote, call Tel: 01202 386439 or Mobile: 07887 647921 now or complete our online enquiry form.